Join The Hinge & Bracket Official Fan Club
What You Get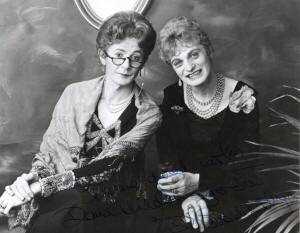 You will receive a numbered membership CD Inlay
A Printed autographed Photo of Hinge & Bracket (Scan of an original I have)

Also a CD of an Interview with Dame Hilda Bracket from 1995 with other special tracks, with your name and picture and membership number printed on it.
Membership gives you Discount on CDs & DVDs from this website
Single CDs & Single DVDs are 50p cheaper

Double CDs and DVDs are £1 cheaper

Triple CDs and DVDs are £1.50p cheaper

4 CD/DVD sets £2 cheaper.


The more you want the bigger the discount, so email first for a quote.

me for my address to post payment / photo of you.
£6 via Cheque or Postal Orders or £6.50 via PayPal (UK) (Postage Extra if under £20)
£8 via PayPal (Rest of world)
What You Need To Do To Join.
You need to provide all of the following:-
Full Name, Full Address, e-mail Address, A Photograph of you.
You need to e-mail or post a picture of you which will go on the back of your membership card.
What I Will Do.
I will return any photographs to you if sent to me to scan for your membership card.
I will make your Membership pack.
I will send you details of the links you will need to log onto to access the members only area with your membership pack.
Once each membership is completed it will be posted to you First Class.
As soon as you order a Fan Club Membership you are entitled to order anything at the Fan Club Price.

(Use the drop down button on the PayPal Button and choose Fan Club Price)

The Postage is FREE if total is over £20